The decoration of the ward has been reduced by 18% the use of anesthesia because patients collaborate more. – The new decor transforms the resonance area of Sant Joan de Déu in a space adventure.
Hospital Sant Joan de Déu de Esplugues de Llobregat has decorated the area like a spaceship to offer a more welcoming to children who undergo tests such as MRI or CT environment.
The initiative is a collaboration between the pediatric hospital and HP company, which has been commissioned to print the new decor of the rooms of radiology.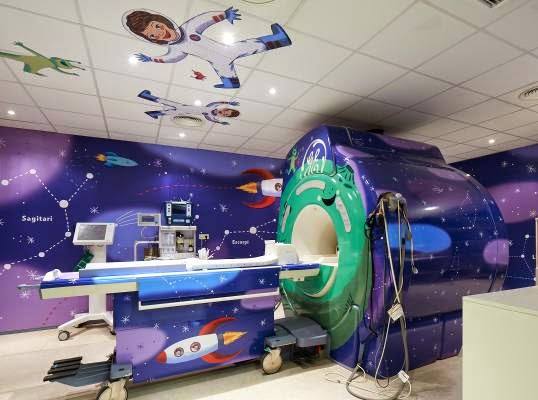 The walls and furniture are lined with images that recreate the daily life of an astronaut and the radiology roof is a dark blue sky with stars and planets and the machine is decorated like a spaceship.
The Chief of imaging of Sant Joan de Déu, Maria Teresa Maristany, explained that "radiology rooms impose much to children, entering anxious and uncooperative, and often must resort to sedation tests perform well. "
According Maristany, with the new space decorating "Children are fascinated, collaborate more, have no fear and this has resulted in a 18% decrease in the use of anesthesia and a reduction of repeat tests."
In the Hospital of Sant Joan de Déu are performed each year 6,000 5,000 MRIs and CT in children and adolescents.